TWITCH UNITY MONTHS
YEAR COMPLETED: 2021–2022
ROLE: Creative Direction, Art Direction, Lead Design, Illustration
Creating a platform full of unique creators, and building the tools to allow those creators to make their channels safe spaces, have been guiding principles of Twitch since its inception. Twitch Unity is a celebration of inclusivity and diversity on the platform's streams, chats, apps, and community at large.
In 2017, Twitch celebrated its first Twitch Unity Day. Since then, the Unity efforts have evolved into large campaigns for Black History Month, Asian American & Pacific Islander Month, Women's History Month, and more.
From 2021–2022, I led creative and art direction for Twitch's Women's History Month, Pride & Hispanic Heritage Month campaigns. Along with featuring these creators' channels on a shelf on the Twitch platform, we also gave them the center stage on a Times Square billboard. We featured twelve creators over the course of each month, and the community response was tremendous. ︎︎︎
Watch a powerful video about how the Pride campaign impacted a queer creator, Negaoryx.
︎︎︎
2021 WOMEN'S HISTORY MONTH ON TWITCH
︎︎︎
2021 PRIDE MONTH ON TWITCH
︎︎︎
2021 HISPANIC HERITAGE MONTH ON TWITCH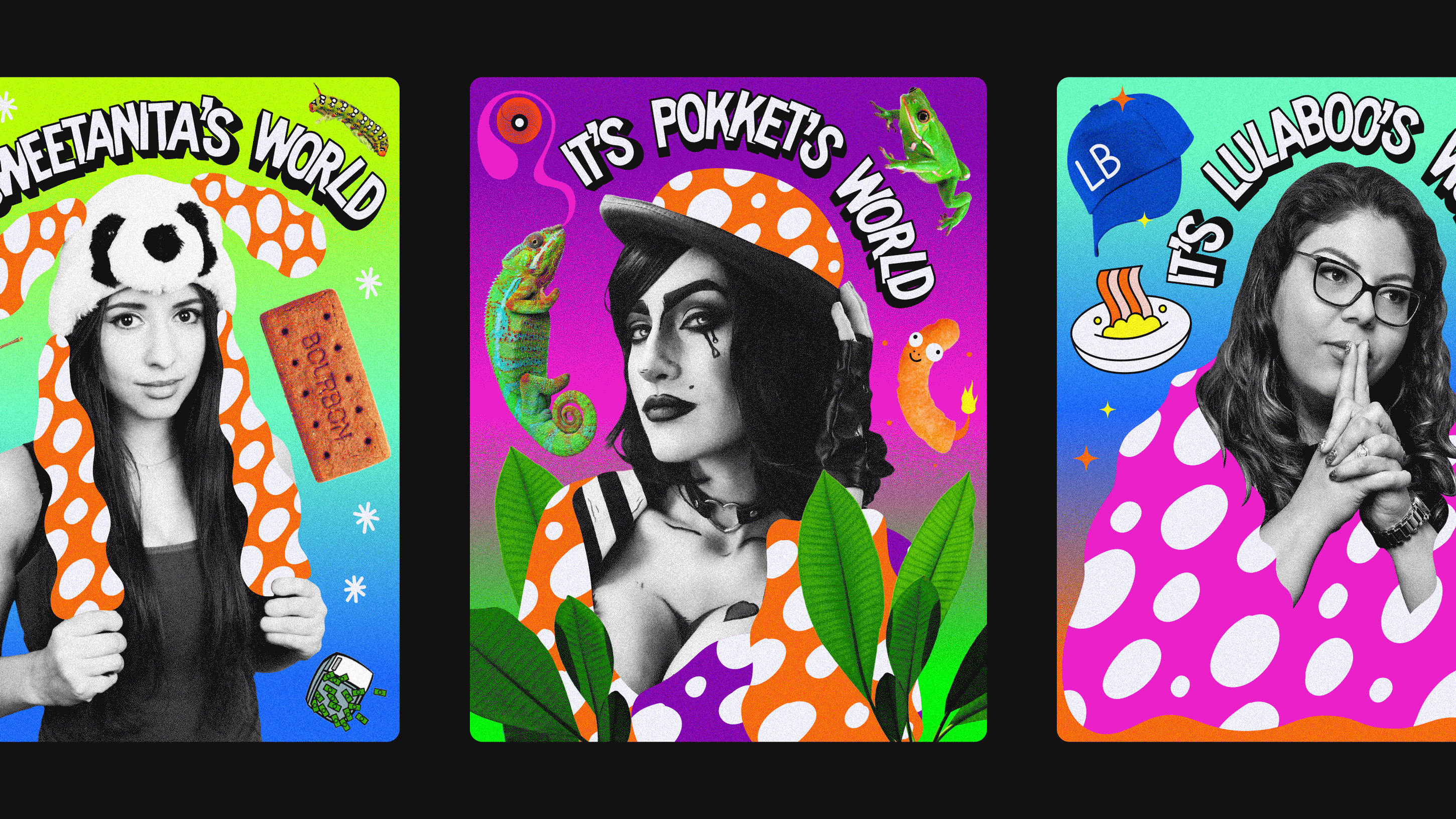 Hispanic heritage is much more than just one culture or language. It's a mixture of backgrounds, traditions, languages, and experiences.
For Twitch's 2021 Hispanic Heritage Month Campaign, I took inspiration from flower bouquets. They are a great visual example of the idea of many diverse things coming together to make something beautiful, and at the same time celebrating the individuality of each component. They are expressive, vibrant, and joyous, similar to the Hispanic community. We wanted to translate that into a visual bouquet that bundles our creators into one big beautiful Twitch family, while still allowing us to spotlight their unique personalities. We adorned our creators in flowers endemic to regions they trace their ethnic background to, along with supporting graphics that illustrate the "world" of these creators.